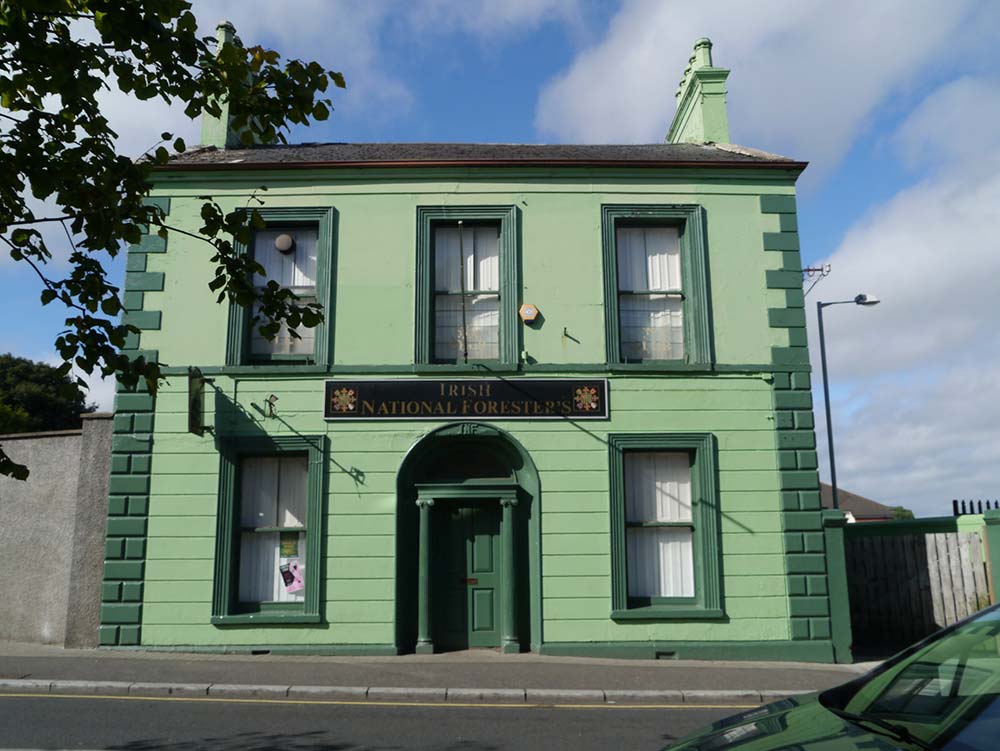 Irish National Foresters Hall
Address
Irish National Foresters Hall 38 North Street, Lurgan, BT67 9AQ
Architect
Sarah Macauley Architect
Projected Grant Aid
£124,907 (64% of total project cost)
Info
Number 36 North Street was constructed in c.1854 and originally consisted of a two storey, three bay detached dwelling, with outbuildings and a formal garden. The property was built as a residence for William Macoun, a linen manufacturer who later built (in 1866) a cambric weaving and handkerchief factory in neighbouring Ulster Street. This factory would be taken over in 1881 by the Lurgan Weaving Company (known locally as The Limited).
In 1899 the lease for number 36 North Street passed into the hands of James Jordan, a linen manufacturer who co-owned Thomas Jordan and Sons, a handkerchief and hemstitching factory based in Edward Street.
By 1930 the Jordan family had vacated 36 North Street, with the property now occupied by the Sir Charles Russell Lurgan Branch (240) of the Irish National Foresters Benefit Society (INF). The INF movement began in 1877 as a strongly nationalist fraternal Society which at its peak counted over 1,000 branches and 250,000 subscribing members worldwide. In the days before the welfare state INF branches performed an important social function by providing members with health insurance, saving policies and other welfare benefits. The Lurgan Branch of the INF was established in 1892 and in its early days met in various venues, including St Peters School and a disused factory in North Street, before finding a permanent home at number 36. Today the Lurgan branch of the INF is one of a few remaining active branches in Ireland and operates primarily as a charitable and social club.
Although over the years the INF have made alterations to the property, much of the original 19th century layout of number 36 and its outbuildings has remained relatively unchanged; whilst inside, though in poor condition, a substantial amount of the original joinery and decorative features remain intact. As a result on the 8th April 2019 the Department of Communities: Historic Environment Division listed (reference number: HB14/20/014) 38 North Street as a Grade B1 building noting that the "house makes a strong architectural and historical contribution to the town of Lurgan and significantly enhances the nineteenth-century streetscape".
36 North Street was designated as one of the priority buildings for the Lurgan TH due to the poor condition of many parts of the interior of the building due to damp, which have fallen into an advanced state of decay, putting at risk the property's continued use and long-term survival.  The fragility of the building has been demonstrated by the collapse of the gable wall, which occurred shortly after the commencement of restoration works in July 2023.
With work now commencing, the ambitious project will result in the repair, reinstatement and restoration of the roofs, windows, doors, floors, walls, ceilings and decorative features, as well as the creation of a new conference and meeting facilities to help bring derelict space into productive use for the INF and wider community to enjoy.