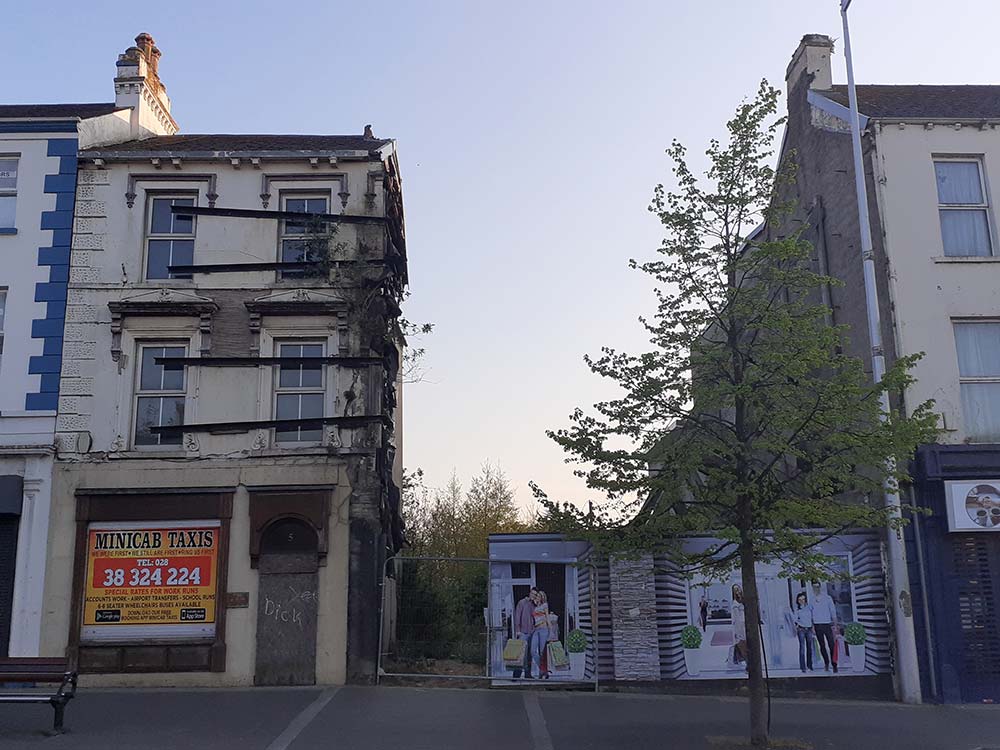 3-5 Market Street
Address
3-5 Market Street, Lurgan
Architect
J. Aidan Kelly Limited
Projected Grant Aid
£285,127 (43% of total project cost)
Info
Numbers 3 to 5 Market Street were identified as high priority projects for the Lurgan THI as both the presence of a gap site, which was created by the demolition of number 3, and the dereliction of number 5 were detracting significantly from Lurgan's streetscape.
The buildings were originally constructed in the early 1800s, forming a mid-terrace three storey, six bay block. The ground floor level was designated for commercial use with two shop fronts, between which was an arched opening that provided access to the extensive rears and yards of the properties. The upper storeys were for residential use.
Among the listed commercial occupiers of the shop front of 3 Market Street between 1864 -1881 were John Rooney (Grocer and Spirit Merchant); Peter Duffy (Grocer, Provision Dealer and Spirit Merchant) and Samuel Thompson (Haberdashery and Millinery Dressmaker). In 1881 John Malcomson established a funerary, auctioneer and carriage hire business at number 3, before re-locating his business to the rear of number 5 in the 1930s. Among the many later businesses occupying number 3 were Frederick C. Watson (Cabinet maker), the C. & B. Vulcanising and Motor Company (car mechanic and tyre repair business), Campbell and McGibbon (Furniture Dealers and Auctioneers), County Reproductions and the audio/visual shop Stereovision.
Among the listed business occupants of the shop front of number 5 during the years 1864 to 1959 are: James Taylor (Wholesale and Retail Grocer and Wine and Spirit Merchant); Peter Duffy (Grocer, Provision Dealer and Spirit Retailer); John G. O'Reilly (Solicitor); Thomas G. Menary (Solicitor); Walter Clarke (Victualler), George Ruddell (butcher) and William Seyton (Butcher). In the 1960s Malcomsons funeral business took over the shop front.
In 2008 numbers 3 and 5 Market Street were purchased by Tesco Stores Ltd.. The purchase resulted in the departure of Malcomsons Funeral Service Ltd. from number 5, ending a 127 year association with the terrace, although not with Lurgan as the firm chose to relocate their business to Robert Street. In 2009 number 3, derelict and in poor structural repair due to damage sustained during a 1992 bomb attack in Lurgan town centre, was demolished with David Patton & Sons Limited the contractors.
Now in hands of new owners, and designated as a priority building within the Lurgan THI, plans are currently in design which will result in the reconstruction of number 3 and regeneration of number 5; allowing both buildings to once again become part of day to day life on Market Street.