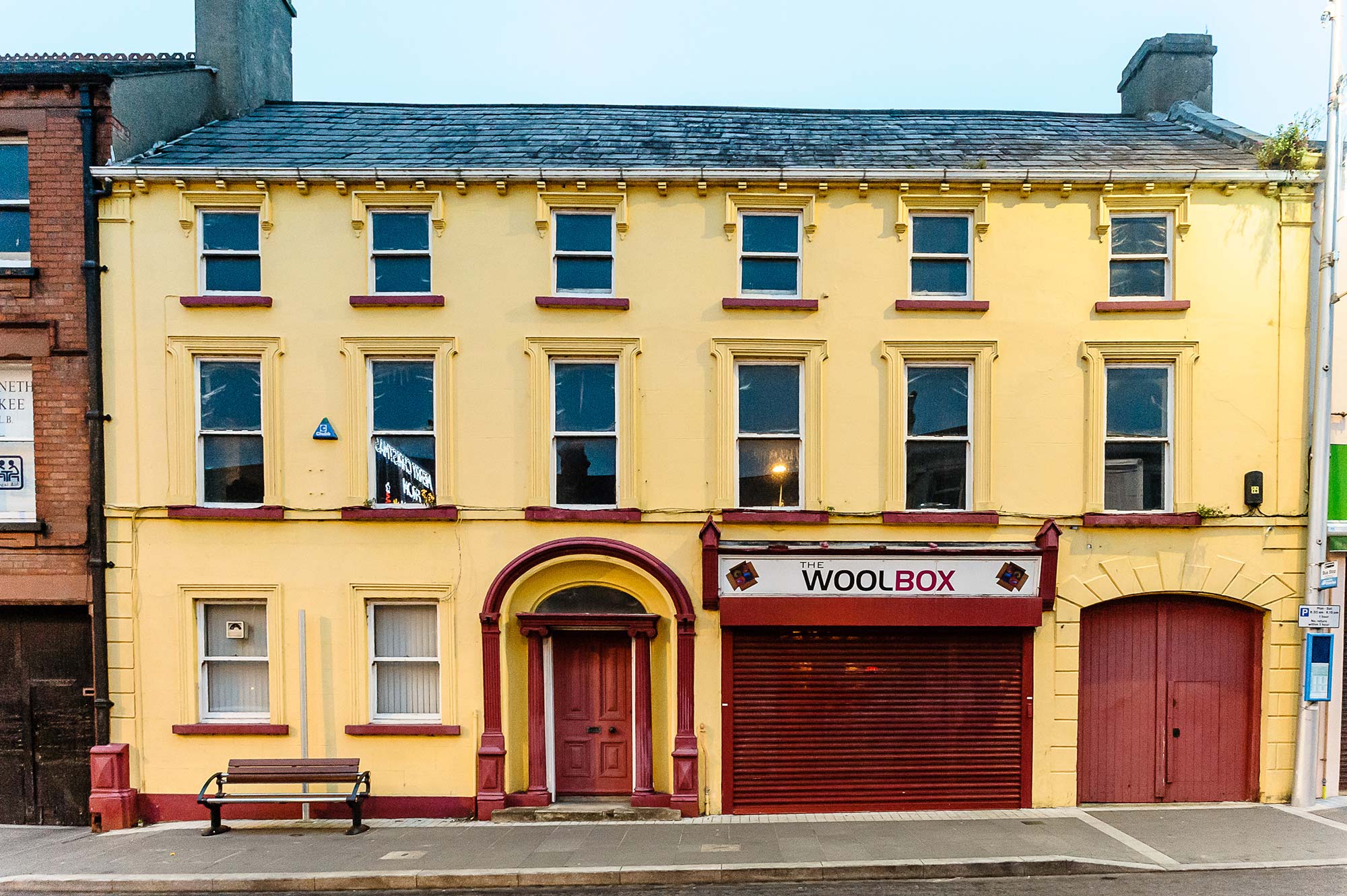 52 High Street
Existing Use
Commercial and residential (vacant)
Date of Construction
Early 19th century
Heritage Merit
Streetscape, listed building
Listed Building Status
Grade B/B2 listed building (Ref: HB14/24/025 A)
Projected Grant Aid
£198,256 (63% of total project cost)
Building Description
Attached six-bay three-storey rendered building (approx. floor area 300sqm) with central entrance door flanked at right by shopfront and carriage arch. Rectangular-on-plan abutted by three-storey hipped return and further two­ storey return; series of attached outbuildings to rear. The roof is pitched natural slate with roughcast chimneys over corbelled eaves; rainwater goods are cast iron. The walls are painted blockmarked lime render with banded quoins at ground floor and pilaster detail to upper floors; continuous sill course at first floor. The original timber entrance door is set within a round-arched-headed door opening with moulded surround. The window openings are square headed with moulded surrounds to lower floors and hoodmould to second floor; windows are replacement timber sliding sashes.
Internally, the building comprises two rooms at ground floor accessed from central stairhall, with staircase accessing upper floors to rear, with further accommodation behind. Much original fabric is retained, including decorative plasterwork cornices, lath and plaster ceilings, fire surrounds, timber staircase, window shutters and linings, doors, architraves and skirtings.
Condition Report
Generally the building is in poor condition.
Structure – the building is generally in poor condition; damage and movement of floor structures and partial loss of roof structure of buildings to rear.
Chimneys – extensive crazing to render, loss of pots, vegetation growth.
Roof – Natural slate roof; vegetation growth, otherwise reasonable condition; rear slopes and those to outbuildings in poor condition.
Rainwater goods – Vegetation growth, poor decorative order.
Render – Some cracking and crazing to front elevation; that to rear damaged and partially fallen away.
Windows – Original timber sliding sashes in poor condition.
Shopfront – replacement aluminium framed shopfront inappropriate. Original timber fascia retained. Entrance – Poor decorative order, some decay to timber plinth to surround.
Interior – in general building interior in poor condition suffering structural movement of floors, loss due to water ingress and lack of maintenance. Much original historic fabric survives, although in poor condition and in much need of repair/restoration.
Planning History (post 1994)
Planning applications submitted as follows:
ID / Proposal
N/2007/0005/LB
Redevelopment of buildings – elevation to High Street retained with new rear return (52 and 52A) (demolition of existing rear return) GRANTED
N/2007/0015/F
Erection of retail and residential development including 5 no. flats. Existing building on street front to be refurbished with rear section to be demolished and replaced with new buildings. GRANTED
Recommendations/TH Eligible Work
Potential floor area, if outbuildings are converted could be approx. 850sqm
Structure – Allow for 30% replacement roof timbers, and replacement of timber floors.
External works to include:
Chimneys – Strip existing corbelled chimneys and rerender that to right gable; wood float lime-based render finish. Install new clay pots.
Roof – Strip and reslate using salvaged slate to street front; new Welsh natural slate to rear slope and returns. Provide thermal insulation.
Rainwater goods – Replace rainwater goods in cast iron.
Render – Remove existing render and rerender using wood float lime-based render with blockmarked finish.
Windows – Carry out repairs to existing 1/1 timber sliding sashes; allow for 25% new; draught-proofing to be provided throughout. Make good existing internal architraves, linings, sills and plaster.
Shopfront – Remove existing display window, door, stallriser and fascia signage. Install new purpose­ designed traditional shopfront, including masonry timber panelled stallrisers; restore existing timber fascia and consoles. New toughened plate glass glazing. New timber panelled and glazed entrance door.
Entrance – Refurbish existing timber panelled entrance door and repair timber plinth to surround.
Carriage arch – replace existing timber sheeted doors to existing opening.
Miscellaneous – Remove and redirect surface fixed cables. Provide high quality front mounted illumination for signage.
Decoration – 4 coats egg-shell paint to general walling and chimneys, 4 coats oil-based gloss paint to rainwater goods and all external woodwork, 3 coats gloss-based paint to new internal woodwork, 3 coats emulsion paint to new internal plastered surfaces. Handpainted signage applied to shopfront fascia.
Other – Allow for resurfacing and landscaping works and lighting to entryway from street to rear.
Internal works to include:
Full refurbishment is required to facilitate use as residential units, to include complete refurbishment, repair/ replacement of linings, etc. New M&E services. Replacement fabric should try to match the existing fabric where evidence remains. Provide new services, thermal insulation to all floors, walls and ceilings, and independent heating systems to each unit.
Image Gallery
Currently no images for this priority building