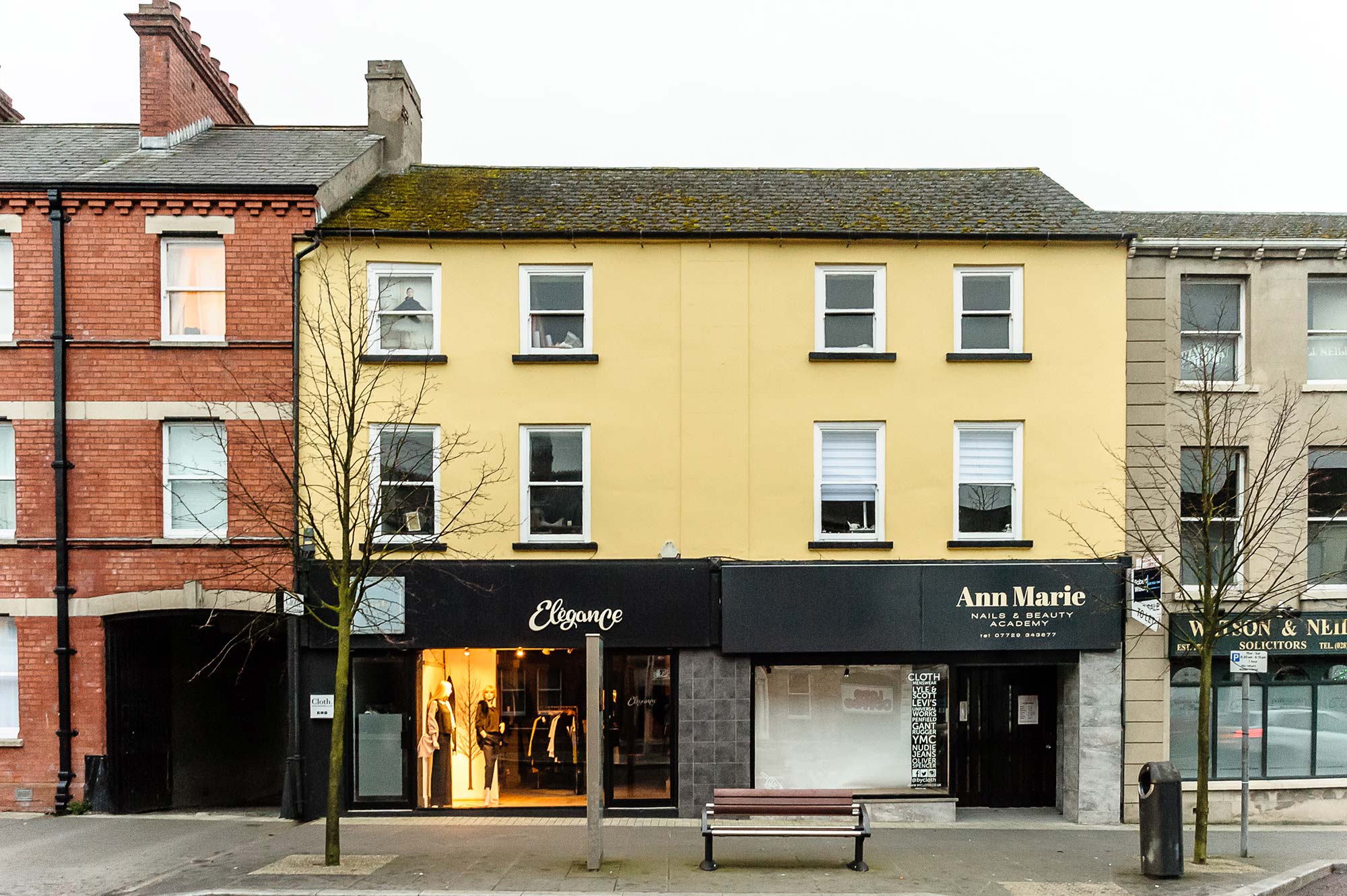 25 High Street
Existing Use
Commercial (vacant)
Date of Construction
Mid-19th century
Heritage Merit
Streetscape, local interest
Listed Building Status
Not listed
Projected Grant Aid
£44,192 (73% of total project cost)
Building Description
Attached two-bay three-storey commercial building to the south west side of High Street. Rectangular on plan (approx. 6m (w) x 10.5m (d) x approx. 8.6m (height to eaves)) with lower two-storey pitched roof returns to left and right rear connected by central single storey monopitched extension. Pitched fibre cement slate roof with smooth rendered corbelled brick chimneys and aluminium rainwater goods. Walls are painted block marked lime render. Square­headed window openings with original painted timber one-over-one sliding sash windows. Painted timber framed shopfront to ground floor with modern signage, large plate glass display window on tiled stall riser and timber boarded soffit. Modern timber-panelled and glazed entrance door to right side.
Rear (south west) elevation is abutted by a lower two-storey smooth render return.
Interior – Original interior layout completely altered. Ground floor retail unit divided by stud-work partitions, office and lobby to rear.
Condition Report
Roof – Fibre-cement slates inappropriate and heavily overgrown with moss.
Rainwater goods – Half-round aluminium rainwater goods inappropriate but in reasonable condition.
Render – Painted block marked lime render recently re-painted appears in reasonable condition.
Windows – Original painted timber one-over-one sliding sashes. Recently redecorated. Appear to require some minor repairs otherwise reasonable condition.
Shopfront – Painted timber-framed shopfront with large plate-glass display window on tiled stall-riser with timber-boarded soffit. Over-sized aluminium fascia. AU inappropriate but in reasonable condition.
Structure – Building appears structurally sound however significant damp ingress to return suggests further investigation may be required.
Rear Elevation – Lower gabled two-storey return to rear appears smooth rendered and in reasonable condition.
Interior – Original internal layout completely altered. Street frontage consists of recessed entrance way with contemporary timber-panelled glazed door to right-hand side with plate-glass display window with timber­ panelled interior to left. Single shop unit with stud-work partitions to office and lobby at rear. Beyond original rear wall of building further office, kitchen and bathroom facilities with split-level up to store and down to rear yard. All partitions are timber stud-work with plaster finish. Condition internally generally poor. Evidence of damp ingress to return and at timber-panelled beam inserted to rear wall.
Planning History (post 1994)
Planning applications submitted as follows:
ID / Proposal
N/2014/0208/F
Change of use of ground floor from chiropractor premises to cafe  WITHDRAW
N/1995/0755
Change of use from estate agents to Chiropractic Clinic GRANTED
N/1990/0389
Change of use from shop to hot food bar REFUSED   (25a High Street)
Recommendations/TH Eligible Work
External works to include:
Structural work – Requires further investigation of roof and rear wall to determine damage due to water ingress.
Chimneys – Reinstate brick corbelled chimney to gable, with roughcast lime-based render finish. Install clay pots.
Roof – Strip and reslate using new Welsh natural slates. Provide thermal insulation. Allow for repairs to roof timbers (say 15%). New lead flashings to rear.
Rainwater goods – Replace rainwater goods in cast-iron.
Windows – Repair existing 1/1 timber sliding sashes, draught-proofing to be included.
Shopfront – Remove existing shopfront, including stallriser and tiled cladding. New purpose-designed traditional shopfront and masonry stallriser, including timber fascia, cornice and pilasters. New toughened plate glass glazing. New recessed timber panelled glazed entrance doors to shop, including mosaic tiling to threshold to traditional profile. High quality traditionally detailed hanging signage to upper floors.
Entrance – Remove door to upper floors and replace with new timber panelled glazed door and frame.
Decoration – 4 coats  eggshell paint  to new chimney  and  general  walling,  4 coats  oil-based  gloss  finish to rainwater goods and all external woodwork including shopfronts, 3 coats gloss-based paint to internal woodwork, 3 coats emulsion to walls in affected rooms, hand-painted signage applied to shopfront fascia.
Miscellaneous – Remove and relocate surface-mounted cables, remove unnecessary signage and fixtures, provide high quality front-mounted illumination for signage.
Internal work to include:
Interior – Take down existing timber boarding at rear wall to facilitate investigation of structure. Reinstate timber boarding and repair plasterwork where disturbed.
Image Gallery
Currently no images for this priority building