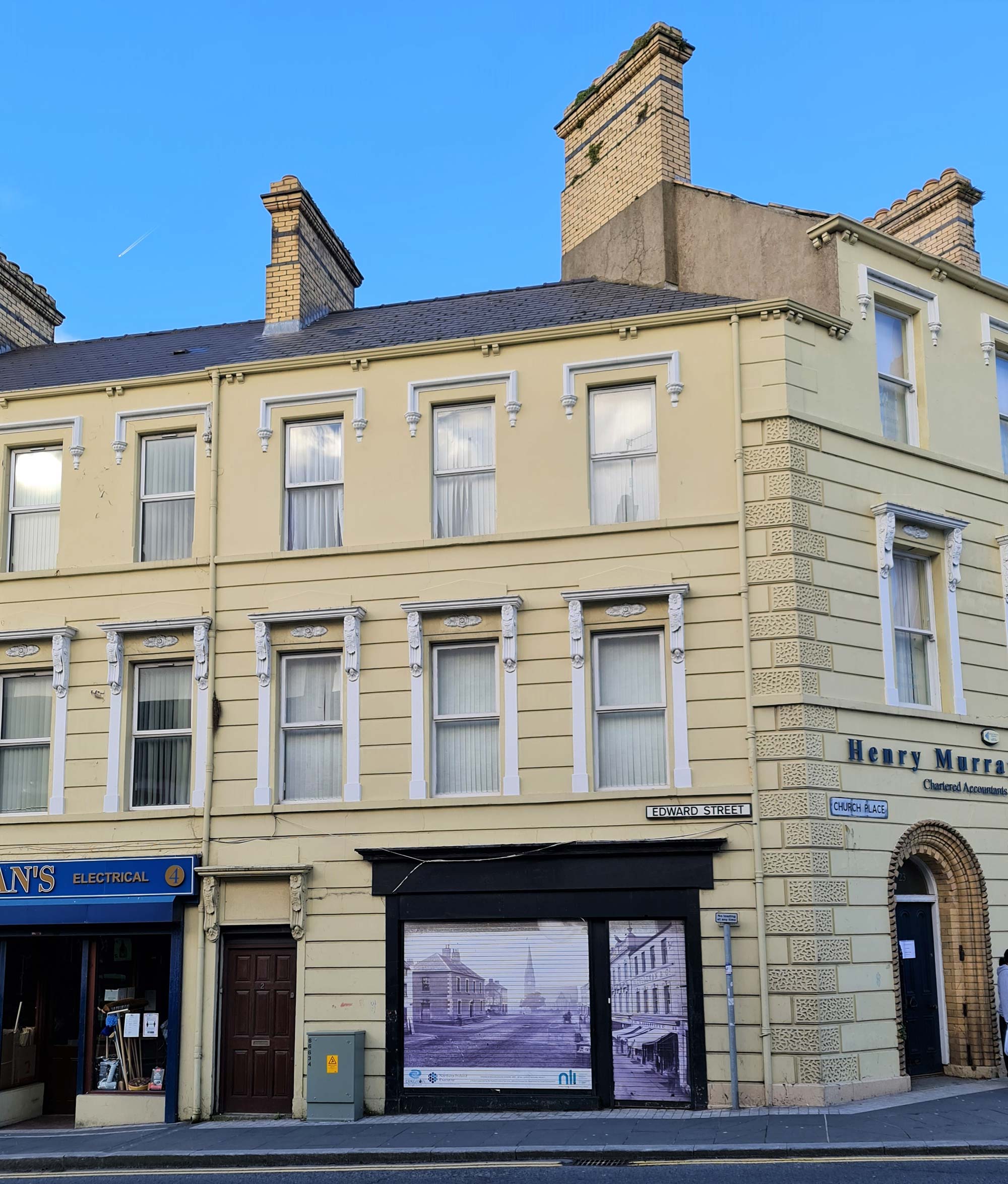 2 Edward Street
Date of Construction
c.1890
Heritage Merit
Streetscape, local interest
Listed Building Status
Not listed
Projected Grant Aid
£33,948 (74% of total project cost)
Building Description
Attached end-of-terrace three-bay three-storey rendered building with shopfront and direct access to upper floors from ground floor. Triangular-on-plan  into  corner with Church Place. The roof is pitched artificial slate with corbelled yellow brick chimney to left party wall, over paired corbelled eaves; rainwater goods are cast iron. The walls are painted blockmarked lime render with raised quoins; banded rustication with vermiculated quoins to ground and first floor. The window openings are square-headed, those to first floor in moulded surrounds with flat pediment over supported on ornate console brackets, those to second floor having hood moulds with decorative stops; windows are timber casements.
Condition Report
Chimneys – Vegetation growth, otherwise reasonable condition.
Roof – Inappropriate artificial slate roof, in reasonable condition.
Rainwater Goods – Cast-iron rainwater goods in reasonable condition.
Windows – Timber casements are inappropriate, however in reasonable condition.
Shopfront – Historic shopfront retained; timber decay to base, otherwise reasonable condition. Roller shutter inappropriate.
Entrance – Carry out repairs to existing timber panelled entrance door.
Planning History (post 1994)
No planning history
Recommendations/TH Eligible Work
External works to include:
Chimneys – Remove vegetation and carry out subsequent repairs to lime pointing.
Roof – Strip existing and restate with new Welsh natural slate; provide thermal insulation.
Windows – Replace existing windows with timber 1/1 sliding sash windows; draught-proofing to be included. Make good internal linings, sills and plaster.
Shopfront – Remove roller Restore and repair historic shopfront; replace glass with toughened plate glass. Provide internal shutters.
Entrance – Replace existing timber entrance door and frame with new traditionally detailed timber panelled entrance door and frame.
Miscellaneous – Provide high-quality front-mounted illumination for signage.
Decoration – 4 coats egg-shell paint to general walling and chimneys, 4 coats oil-based gloss paint to rainwater goods and all external woodwork, 3 coats gloss-based paint to new internal woodwork, 3 coats emulsion paint to new internal plastered surfaces. Handpainted signage applied to shopfront fascia.
Image Gallery
Currently no images for this priority building