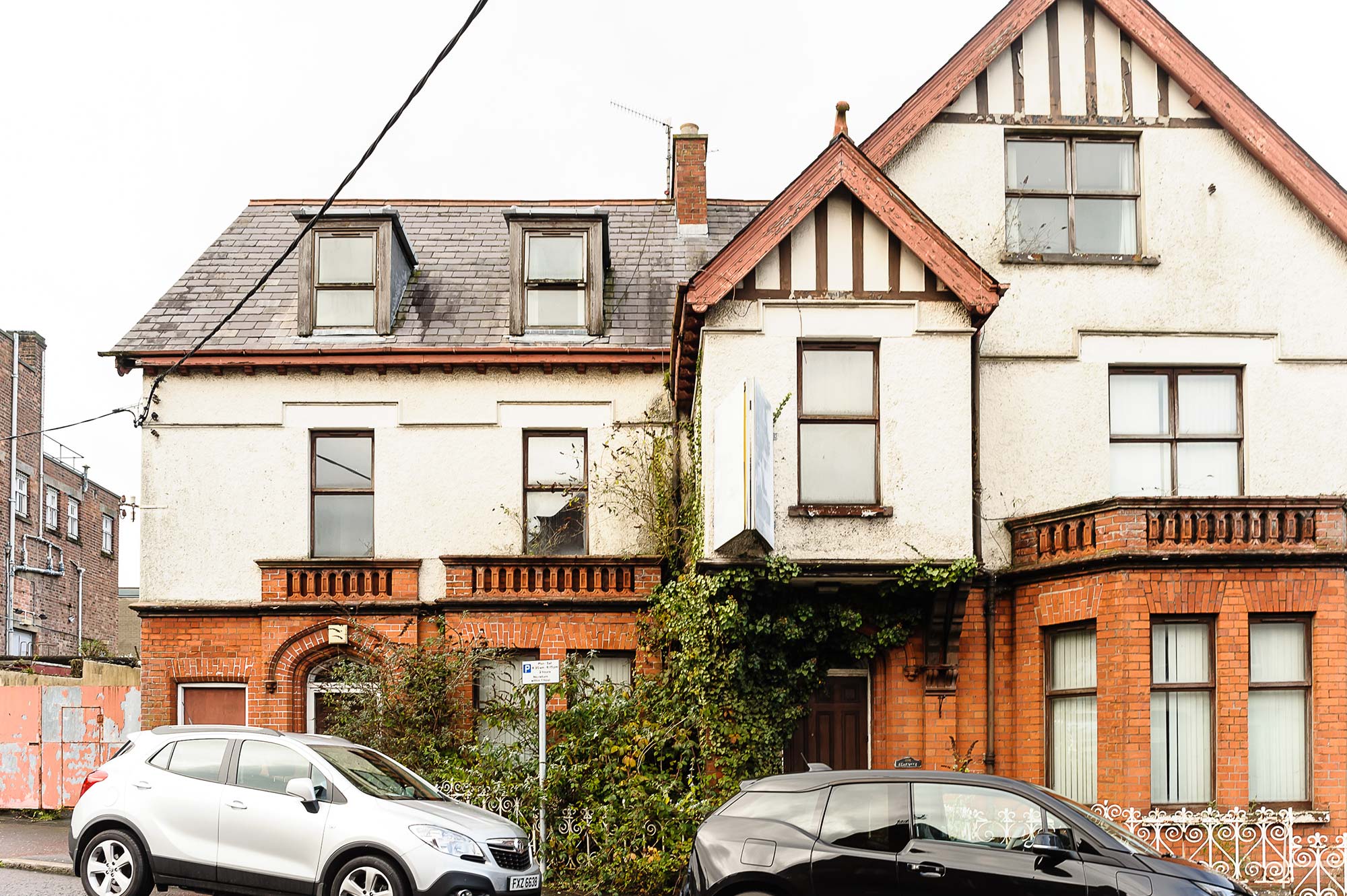 16-18 Windsor Avenue
Existing Use
Residential (vacant)
Date of Construction
c.1925
Heritage Merit
Streetscape, local interest
Listed Building Status
Not listed
Projected Grant Aid
£216,047 (65% of total project cost)
Building Description
Multiple-bay, two-storey with attic, brick and render former residential property projecting forward with jetty over entrance. T-shape on plan and located on the west side of Windsor Avenue. Pitched natural slate roof with red brick chimney stack and lead clad dormers to left side. UPVC gutters on bracketed painted timber eaves and fascia.  Walls are painted roughcast render to first and attic floors and red brick in Flemish bond to ground floor. Continuous moulded string above first floor windows, timber stopwork to projecting gables with painted timber barges. Terracotta balustraded bays, stained square headed window openings, stained timber casements throughout. Painted timber multiple panel doors with diamond raised and fielding to bottom panels, painted timber corbels flanking main entrance door. Decorative ironwork railings on plinth wall to boundary.
Condition Report
Chimneys – 2 no. inappropriate replacement red-brick chimneys with inappropriate cementitious coping. That to left-hand side with 2 no. inappropriate red clay pots. No pots to chimney to right-hand side.
Roof – Replacement artificial slate roof inappropriate. Isolated broken and slipped slates, otherwise reasonable condition.
Timber trims – Evidence of decay to part of timber fascias and barge-boards with paint peeling extensively, otherwise reasonable condition.
Rainwater goods – Inappropriate uPVC gutters.
External walls – Brickwork to ground floor in reasonable condition with isolated areas of spalled brick. Wet­ dash render to upper floor in reasonable condition.
Windows – one-over-one original timber casements in reasonable condition, poor decorative order.
Entrance Doors – 2 no. original timber-panelled entrance doors with glazed top light in reasonable condition. 1 no. inappropriate timber door to left-hand side.
Miscellaneous – Significant corrosion to decorative wrought-iron railings fronting street. Significant vegetation growth to left-hand side of No. 16.
Interior – inaccessible at time of survey.
Planning History (post 1994)
Planning applications submitted as follows:
ID / Proposal
N/2007/1046/DCA
Complete demolition of pair of semi-detached buildings REFUSED
N/2007/1052/F
Change of use of existing HMO to provide 6 no. apartments with extensions to the side and rear to provide 7 no. apartments with basement parking GRANTED
N/2008/0550/DCA
Demolition of rear extension to facilitate Changes of Use and    Development of the site to 13 no. apartments GRANTED
Recommendations/TH Eligible Work
External works to include:
Chimneys – Take down and rebuild chimneys in red brick with original corbelled profile. Install new clay pots.
Roof – Strip and reslate with new Welsh natural slate; provide thermal insulation. Carry out timber repairs and renew lead cheeks to Dormers.
Timber trims – Refurbish timber fascias and bargeboards. Rainwater goods- Replace rainwater goods with cast iron.
External walls – Remove vegetation growth. Carry out isolated brick repairs.
Windows – Remove existing casements and replace with timber 1/1 sliding sashes; draughtproofing to be included. Make good internal linings, sills and plaster.
Entrance Doors – Refurbish original timber entrance doors. Remove inappropriate entrance door and replace to match original doors.
Miscellaneous – Remove vegetation growth.
Internal works to include:
Internal refurbishment to provide 6 no. residential apartments. Repair and replaster ceilings and walls; dryline and insulate all external walls. Install new partitions and doors. Upgrade all services and internal finishes; provide independent heating systems. Construct external escape stair to rear. Allow for repair of timber floors (say 30% replacement).
Siteworks to include:
Remove vegetation and resurface forecourt.
Refurbish existing metal railings.
Image Gallery
Currently no images for this priority building