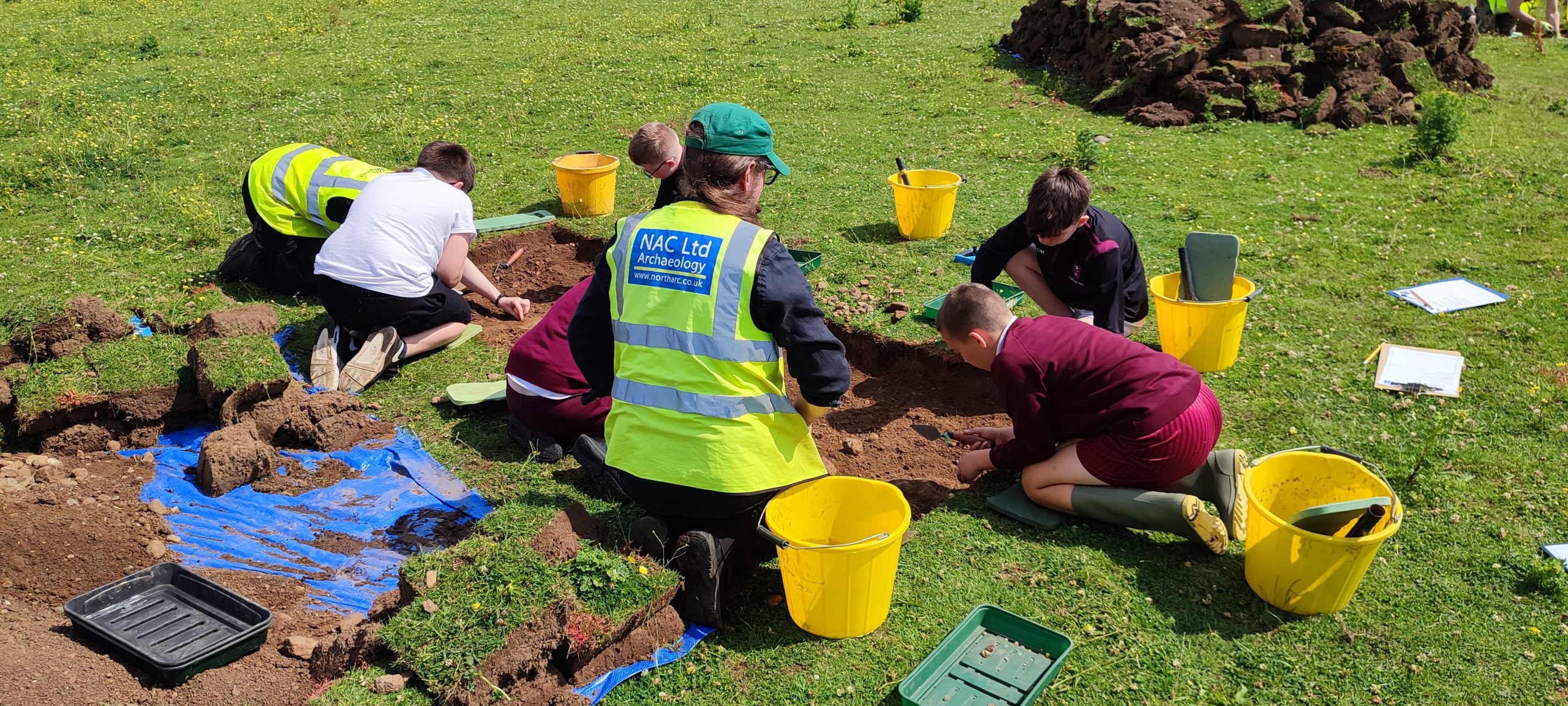 19 June-7 July: Kilmocholmóg Community Archaeology Dig
High Status Early Medieval site uncovered at Lurgan!
Between Monday 19 June and Friday 7 July we were delighted to join with the Craigavon Historical Society to organise a 3 week community archaeology dig at Kilmocholmóg field, located off the Kilmore Road, Lurgan. Last year, an exploratory dig organised by the Lurgan Townscape Heritage Scheme, at Kilmocholmóg revealed evidence of an early medieval settlement (AD400-1100), which the archaeologists originally interpreted as an unenclosed farmstead.
This year's community excavation, again carried out under the direction of the Northern Archaeological Consultancy, has however transformed our understanding of Kilmocholmóg, with the evidence uncovered (including evidence of metalworking and glassworking) suggesting that the settlement here was of an important, high status nature. Evidence was also uncovered of an enclosing vallum ditch (originally though to be a round house last year) from which the majority of the artifacts were recovered (including a substantial amount of early medieval souterrain pottery); while on the penultimate day traces of a wall slot and post holes of a building within the enclosed area of the ditch were revealed. The discovery caused quite the stir with the BBC News NI reporter Cormac Campbell calling down to report for BBC Newsline:
We have to say a huge thank you to  every single one of our 300+ volunteers  who joined us, whether for one session or multiple sessions – we really appreciate the time you all gave, and there was a terrific atmosphere throughout whether rain or shine, with the hundreds of artefacts recovered a testament to your concentration and eagle eyeness. It was great too to make new connections with the Portadown and Lurgan branches of People 1st, St Teresa's Primary School and Lurgan Model Primary School, which we look forward to developing in future.
Special mention of course to The National Lottery players, whose support through The National Lottery Heritage Fund has made this community dig possible via the Craigavon Historical Society's 'Digging Deeper Together: Rediscovering Our Sacred Landscapes' project.
We are now waiting for the Northern Archaeological Consultancy to complete their post-excavation analysis with a public talk on their final conclusions to follow later in the year.
Will the talk answer some of our questions like: where does the possible ditch run? Is it forming an enclosure around the structure? What is the structure suggested by the postholes and possible wall slot? Are the two contemporary? Where are the kilns/furnances that must go along with the evidence for metalworking and glassworking? What kind of a site is it? Is it ecclesiastic or secular? Do we have any Neolithic occupation on site to go along with the flintwork, or was this a temporary 'working' site in the Neolithic rather than a habitation site? –
We'll have to wait and see but it looks like a third community excavation may be needed next year to answer all of the questions!