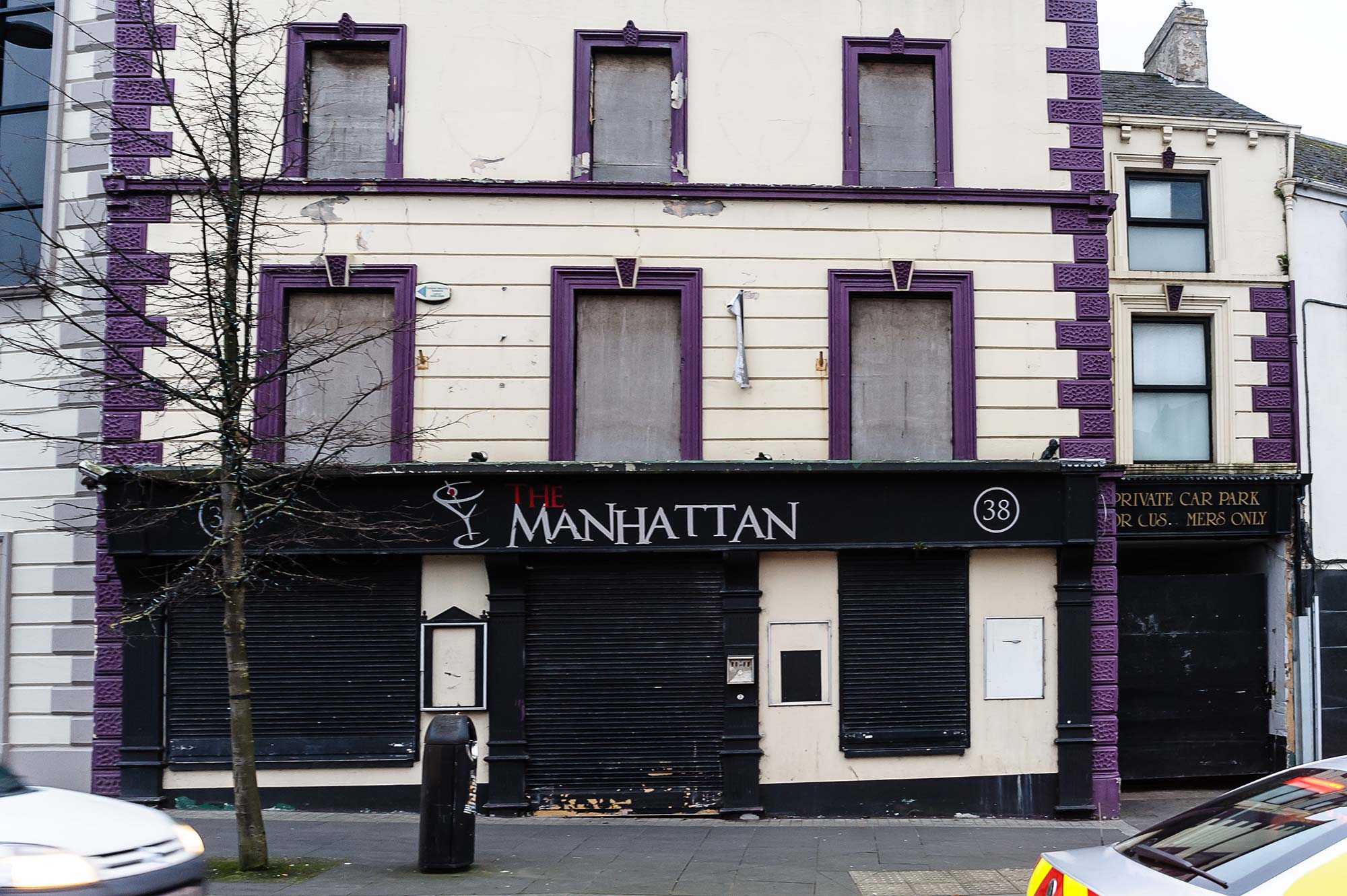 38 Church Place
Date of Construction
Mid-19th century
Heritage Merit
Streetscape, local interest
Listed Building Status
Not listed
Projected Grant Aid
£273,643 (71% of total project cost)
Building Description
Attached three-bay three-storey former public house with single-bay set-back abutment over carriage arch to right side, located on the south side of Church Place. Rectangular-on-plan (approx. 10m (w) x 8.7m (d) x 8.9m (height to eaves). Lower two-storey flat roof return to rear (south) elevation abutted by further single storey extension. This building has suffered extensive fire damage. Roof has been removed leaving original rendered chimney to abutment. Rainwater goods are cast-iron. The walls are painted lime render with vermiculated quoins and branded rustication to first floor level over shopfront to ground floor. The windows are blocked-up and have moulded surrounds, those to abutment are timber casements. Modern painted timber shopfront to ground floor with roller shutters.
Condition Report
Chimneys – Chimneys lost from main building; original lime-rendered chimney retained to abutment. Reasonable condition.
Roof – Roof structure entirely removed.
Rainwater goods – Painted cast-iron, in poor condition.
Render – Painted lime-based render with banded rustication to ground and first floor, smooth render to second floor. Cracking above windows, possibly due to heat damage, otherwise reasonable condition.
Shopfront – Inappropriately scaled timber shopfront in reasonable condition. Inappropriate roller shutters.
Windows – All windows boarded-up. Moulded rendered surrounds in reasonable condition. Timber casement windows to abutment inappropriate but in reasonable condition.
Interior – Inaccessible at time of survey. Extensive full-height flat roof extensions to rear. Not visible from street.
Planning History (post 1994)
Planning applications submitted as follows:
ID / Proposal
N/2010/0464/F
Retention of existing covered smoking shelter to facilitate 'The Ceili House' public house GRANTED
N/1990/0426
Alterations and Extension to Public House GRANTED
Recommendations/TH Eligible Work
Structural work – Grub up existing ground floor structure and install new insulated concrete ground floor structure. Install new timber first and second floor structure. Stabilisation works to external walls. Rebuild gables and install new timber roof structure.
External works to include:
Chimneys – Reinstate chimneys in red brick with corbelled detail, to match historic photographic evidence. Install new clay pots. Take down and rebuild chimney to abutment.
Roof – Erect new timber roof structure. Provide new thermal insulation. Slate using new Welsh slate with angled clay ridge tiles.
Rainwater Goods – Install new gutters and downpipes in cast-iron. Provide new fixings.
External Walls – Repair existing external walls; rebuild gables above eaves height.
External render – Repair existing render at first floor. Strip and rerender external walls at ground and second floor using lime-based render, reinstating banded rustication and quoins. Repair smooth render to rear elevation. Repair moulded architraves to first and second floor windows. Reinstate carriage arch profile to abutment, to historic profile.
Windows – Remove existing windows and provide new painted timber 2/2 sliding sash windows, to include draught-proofing throughout. Provide new internal linings, architraves and sills to traditional profile, new stone sills and new concrete lintels.
Entrance Door – Reinstate central entrance with painted timber panelled entrance door and fanlight.
Shopfront – Remove existing shopfront. Install new purpose-designed traditional shopfront, including timber facia and cornice. New toughened glass glazing; internal shutters. New timber panelled and glazed shop­ door.
Decoration – 4 coats eggshell paint to general walling and chimneys, 4 coats oil-based gloss paint to rainwater goods and all external woodwork, 3 coats gloss-based paint to new internal woodwork, 3 coats emulsion paint to internal plastered surfaces.
Miscellaneous – Provide high quality front mounted illumination for signage.
Internal works to include:
Interior requires complete refurbishment. Allow for drylining all external walls and stud partitions internally. Replacement fabric should try to match the existing fabric where evidence remains and historic images of the property.
Siteworks to include:
New sandstone entrance step to front entrance.
New wrought-iron gates to carriage arch.
Image Gallery
Currently no images for this priority building