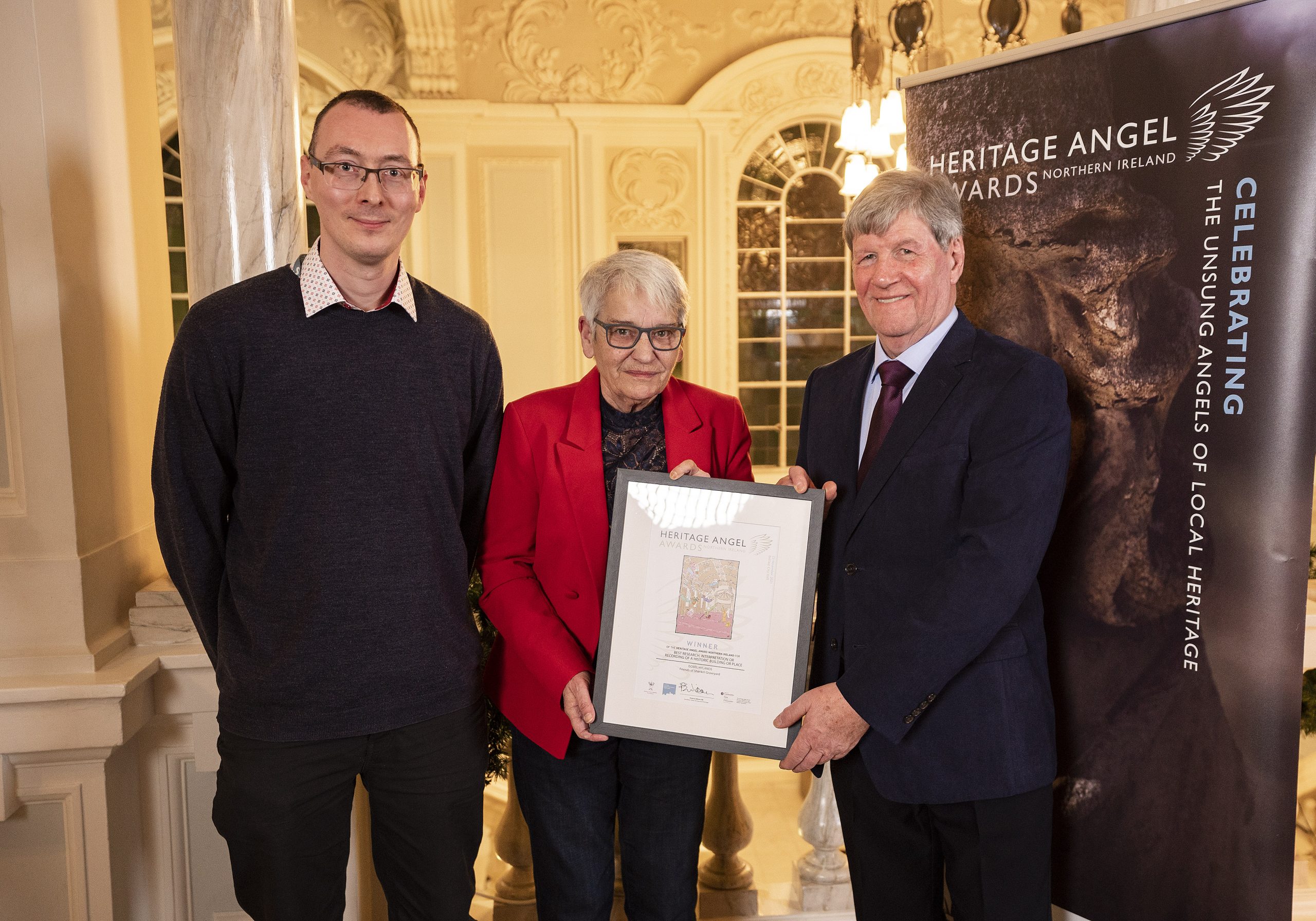 FRIENDS OF SHANKILL GRAVEYARD WIN HERITAGE ANGEL AWARD
FRIENDS OF SHANKILL GRAVEYARD WIN HERITAGE ANGEL AWARD 2021
We wish to congratulate the Friends of Shankill Graveyard on their recent success at the Heritage Angel Awards in recognition of their outstanding work in promoting the preservation and heritage of Shankill graveyard in Lurgan. We were proud to nominate the group for the award, and delighted to  see that their efforts, against some stiff competition, were recognised win as they were awarded the Heritage Angel Award for 'Best Research, Interpretation or Recording of a Historic Building or Place', at a glamorous ceremony organised by the Ulster Architectural Heritage Society at the Belfast City Hall last Tuesday evening.
Shankill Graveyard is an historic site within Lurgan, located on an ancient ringfort, with the graveyard originally linked to a pre-Plantation Church. Today within the graveyard stands the listed Brownlow family Mausoleum; the resting place of Lurgan's founders; the graves and monuments of many of the town's most well-known families and individuals including the infamous Margery McCall ('Lived once, Buried Twice'), alongside many, sadly unmarked, pauper and famine graves. The graveyard's heritage and integrity was however put at risk in 2018 after a spate of anti-social behaviour resulted in severe damage to numerous headstones and monuments which also brought great distress to the descendants' families. Recognising the importance of conserving the site, Isobel Hylands was the driving force in bringing together a group of like-minded volunteers to form a group to campaign for the graveyard's improved security and restoration, in collaboration with the Armagh City, Banbridge and Craigavon Borough Council. As a result of the Friends of Shankill Graveyard's efforts security fences have been erected around the graveyard which have done much to reduce anti-social behaviour. The group, also keen to showcase and share the beauty and history of the graveyard to the local and wider community, have instigated a popular walking tour and events programme, while actively assisting people in researching their family history. The group's Facebook page 'Friends of Shankill Graveyard' now has over 1,200 members, counting members from as far away as Australia and New Zealand, and Canada and the United States.
The Angel Award is a fitting tribute to the group's work, all voluntary, and from what we hear the group are only just getting started. We look forward to supporting them in their future efforts.
The Heritage Angel Awards, organised by the Ulster Architectural Heritage Society, are an annual awards ceremony, which aim to celebrate unsung angels of local heritage – individuals or groups, who have rescued an historic building or site, worked as craftspeople or apprentices, or recorded and interpreted a historic place. The Heritage Angel Awards Northern Ireland are lead funded by the Andrew Lloyd Webber Foundation, with further support from the Department for Communities, the Construction Industry Training Board NI and Belfast City Council in 2021.