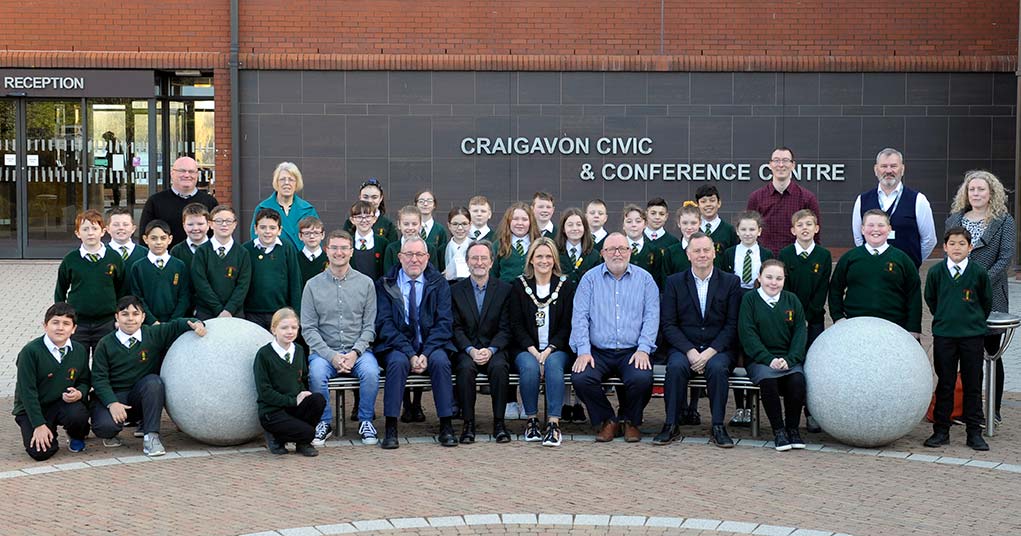 'Know Your Place' School Project
In January 2020 primary 7 classes from Lurgan Model Primary School and Carrick Primary School completed a four month project entitled 'Know Your Place' through which they explored Lurgan's history from the town's foundation in 1610 to the present day.
Pupils began the project by spending time in the classroom studying maps and photographs to examine how Lurgan has changed over time. They then investigated what remains of historic Lurgan through walking tours of Shankill graveyard (Lurgan's most historic site) and Lurgan town, which were facilitated by local history enthusiast Jim Conway and David Martin of Brownlow House respectively.
After considering Lurgan's past, the classes were then challenged to think about Lurgan's future and what changes they would make to the town if they were in charge. After much discussion, the pupils were then able to bring their ideas to life in model-making sessions facilitated by artist Hazel Boland.
To mark the end of the project, the classes were invited to the Craigavon Civic Centre to meet the Lord Mayor of Armagh City, Banbridge and Craigavon Borough Council, Councillor Mealla Campbell, who provided a tour of the Council chamber and an insight into the work and role of the Council and how decisions made there affect everyday life. The decision makers of the future were then given the opportunity to assume the role of councillor and question the Lord Mayor and the Lurgan Townscape Heritage Partnership about their future plans for Lurgan.
At the conclusion of the project David Weir, Education and Activities Officer of the Lurgan THI commented:
"As well as restoring historic buildings, a key aim of the Lurgan THI is to increase appreciation, awareness and understanding of Lurgan's history and heritage through educational and training initiatives. The 'Know Your Place' primary school programme is central to these aims and we look forward to rolling this out to more schools across Lurgan over the future months".