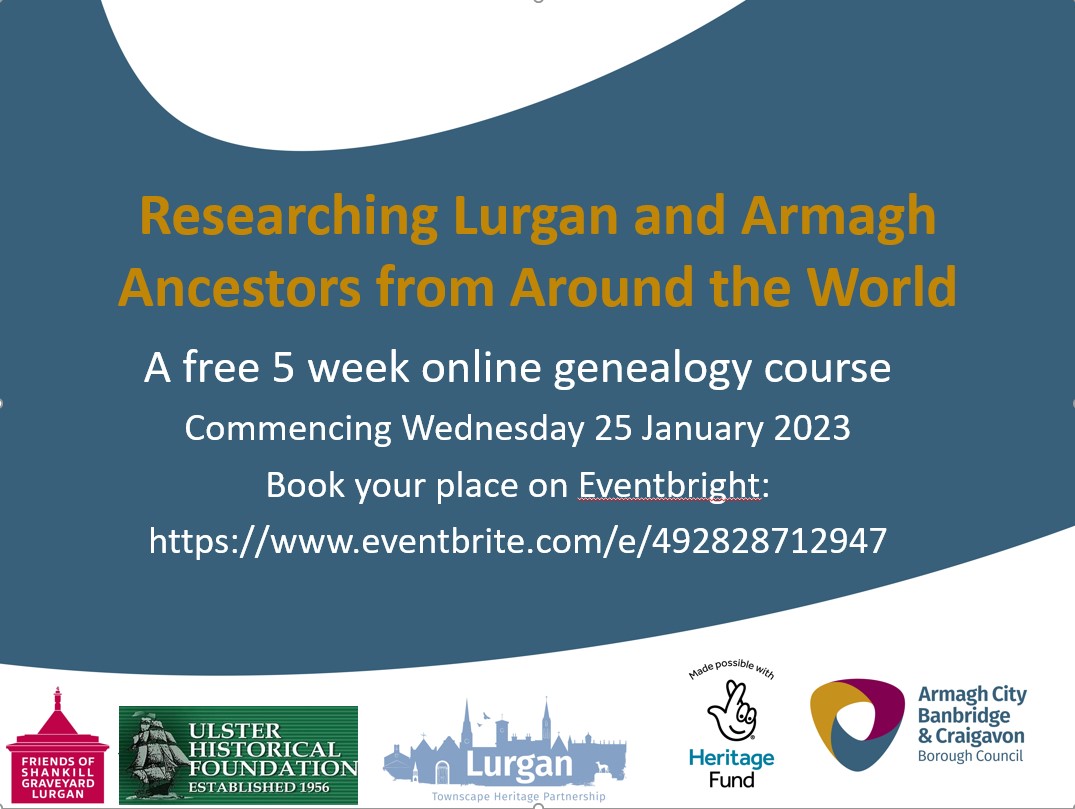 January-February 2023. Zoom online course: Researching Lurgan and Armagh Ancestors Around the World
We are delighted to be supporting this genealogy course, in partnership with the Friends of Shankill Graveyard (Lurgan), which has been organised on our behalf by genealogy experts Gillian Hunt and Fintan Mullen of the Ulster Historical Foundation.
This comprehensive course will help you get to grips with the archives and genealogical sources required to research ancestors from Lurgan and Armagh who emigrated to America, Canada, Australia and Britain; providing you with the necessary information and skills to further explore your family history and help you find your elusive emigrant ancestors. Each session of the course will be facilitated live by well-known genealogists who live in the country they will be discussing.
The course is free and will take place online via Zoom commencing on Wednesday 25 January 2023 (start time: 7.30pm GMT) and will last for 5 weeks.
The course will be interactive with opportunities to share knowledge and ask questions throughout to help you with your family history research.
The structure of the course is as follows:
Wednesday 25 January 2023: 'Researching Emigrants to Britain' by Chris Paton 
Wednesday 1 February 2023: 'Researching Emigrants to the United States' by Dave Miller
Wednesday 8 February 2023: 'Researching Emigrants to Canada' by Melanie McLennan 
Wednesday 15 February 2023: 'Researching Emigrants to Australia' by Dr Perry McIntyre
Wednesday 22 February 2023: 'Sources for researching emigrant ancestors' by Fintan Mullen and Gillian Hunt of the Ulster Historical Foundation
Register your place via Eventbright at: https://www.eventbrite.com/e/492828712947