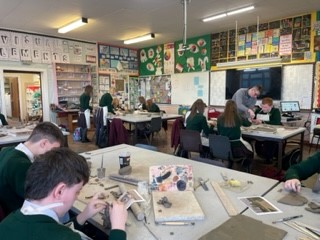 Art Project: Lurgan in Ceramic
Over the course of  January and February the Year 10 Art and Design classes at St. Ronans College will be taking part in  series of ceramic workshops, facilitated by Josh Lyness from Mud Ireland Ltd, tasked with with challenge of producing a ceramic piece inspired by the architecture, streets and places within Lurgan.
At the end of the project the work of the students will be exhibited at the Millennium Court Arts Centre in February.
We can't wait to see the final results of the students work!