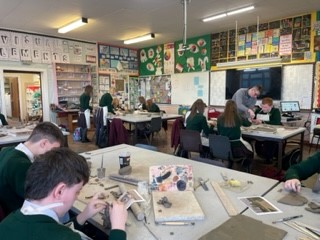 Art Project: Lurgan in Ceramic
Over four weeks in January and February, the Year 10 students of the Art and Design classes of St. Ronan's College were challenged to create a ceramic piece inspired by the architecture, places and streetscapes unique to Lurgan. The project was designed to encourage the students to think about and observe the things which makes Lurgan the place it is, while enhancing their creative and practical skills in ceramic design and production.
All of the pieces produced, under the guidance of ceramicist Josh Lyness of Mud Ireland Ltd., were brought together in an exhibition at the Millennium Court which officially opened on Friday 10 February with the students in attendance. The Deputy Lord Mayor Tim McClelland also popped in to present Eva Cassidy a Mud Ireland mug crafted by Josh as a prize for her stained glass ceramic piece which was judged to be the best on show. You can have a look at the exhibition in the video below.
A big thank you to all the students and the teachers for all their hard work on this project and for Josh for facilitating. The work the students produced in just 4 weeks really is stunning, especially given the fact this was their first time using clay!