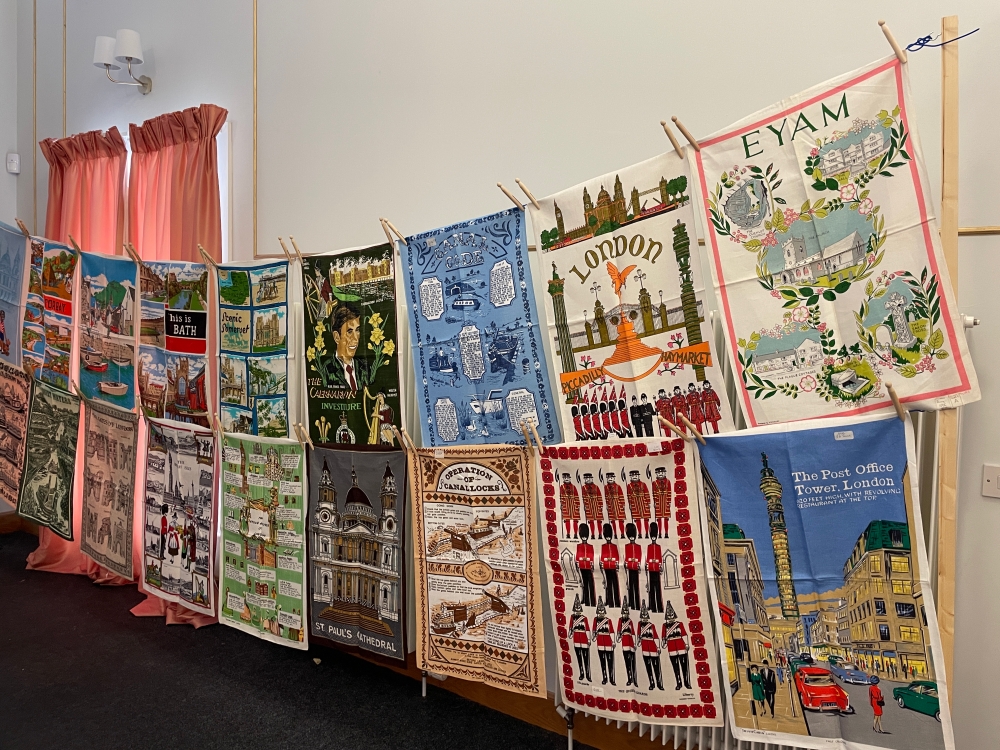 25 August – 2 September 2023: McCaw Allan -a tea towel collection
Exhibition: McCaw Allan – a tea towel collection
Dates: Friday 25 August to Saturday 2 September 2023
Venue: The Courtyard, Brownlow House
An exhibition which celebrated the Lurgan linen industry through the humble tea towel.
The exhibition was curated by contemporary artist Robert Peters, and showcases the tea towel designs of McCaw Allan & Co. Ltd (now part of the Samuel Lamont & Sons Ltd.); the last surviving name of over 30 linen businesses that formerly operated in the town, which together established Lurgan as a leading centre of linen manufacture in Ulster.
Within the exhibition nearly 120 tea towel examples were displayed, along with original design drafts and sketches, which have been lovingly catalogued and preserved by Douglas Mowbray, the former purchase manager of Samuel Lamont & Sons, who first joined McCaw Allan as 15 year old apprentice in 1972, before retiring in May 2023.
The designs, eye-popping colours and finishing of the tea towels are an enduring tribute to the creativity and skill of McCaw Allan workforce, while also offering an insight into changing social norms, tastes and manufacturing processes over the past 50+ years. This history is contextualised in an accompanying publication  by linen archivist Fiona McKelvie.
The exhibition was the result of a collaboration between the R-Space Gallery, supported by the Arts Council of Northern Ireland; and the Lurgan Townscape Heritage Scheme, an initiative supported by the Armagh City, Banbridge and Craigavon Borough Council and the National Lottery players through The National Lottery Heritage Fund.
We are thankful to the Knitted Knockers of Northern Ireland for providing their base at The Courtyard, Brownlow House for the exhibition.
Find out more about the history of McCaw Allan by viewing the below interview by Douglas Mowbray: