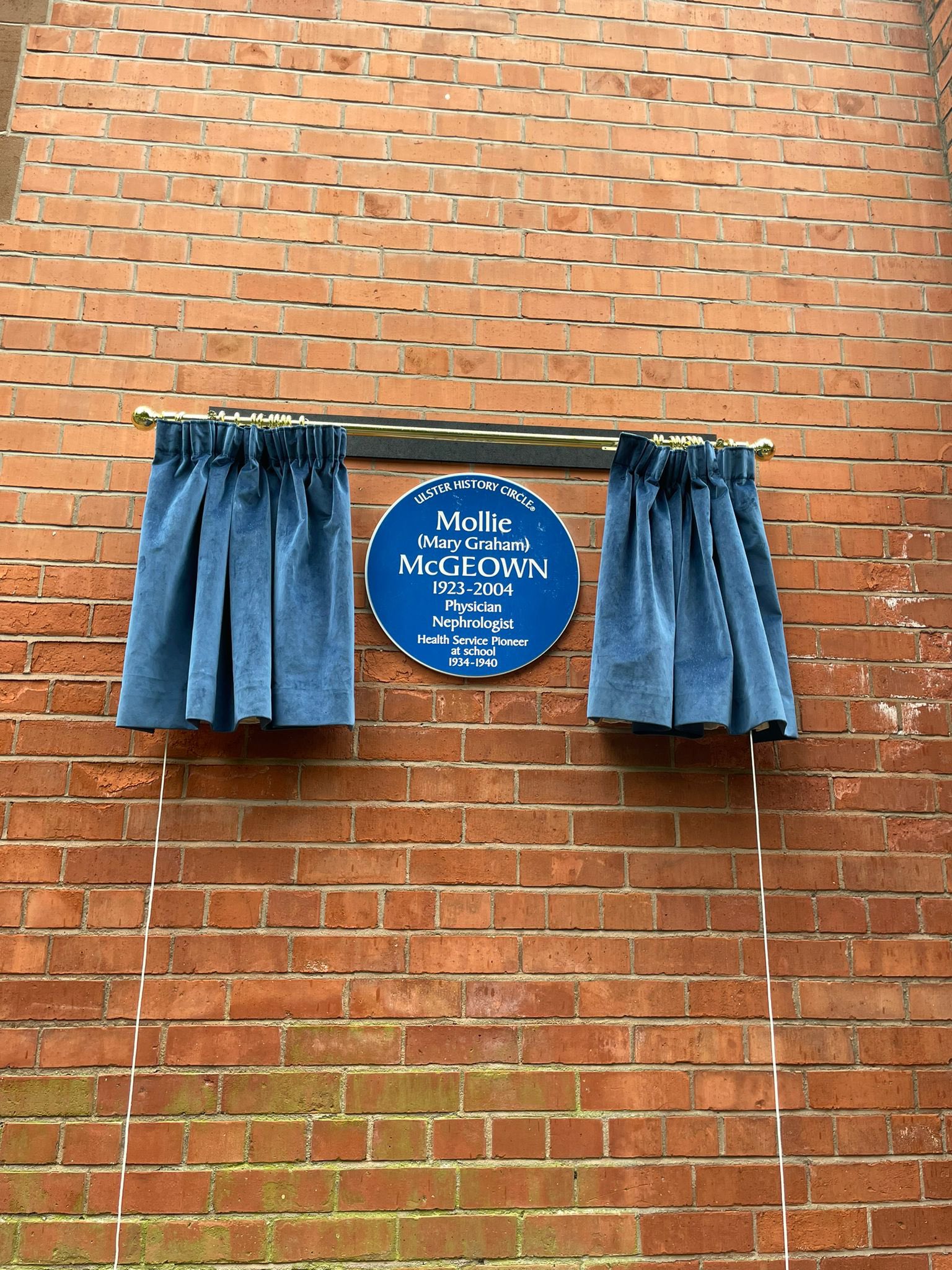 23 June: Unveiling of Blue Plaque to Mollie McGeown
We were honored to join with the Ulster History Circle to arrange the unveiling of a blue plaque to commemorate the life of Mollie McGeown, a physician and pioneer of kidney dialysis and transplantation.
The plaque was unveiled at her former school of Lurgan College, by her grandson Johnny Freeland on Friday 23 June, with an audience of 50 people in attendance including members of her close and extended family, former colleagues and dignitaries including Roger Wilson, the Chief Executive of the Armagh City, Banbridge and Craigavon Borough Council.
The blue plaque was funded through the Armagh City, Banbridge and Craigavon Borough Council's Tourism, Arts and Culture department.
You can view a video from the unveiling ceremony below:
Mollie McGeown Biography:
The renowned physician was born in the Aghagallon area near Lurgan in 1923, and after attending Lurgan College went on to study medicine at Queen's University Belfast.
Following a period as a research fellow at the Royal Victoria Hospital, working on the causes of renal stones, she went on to head a new dedicated kidney facility in Belfast City Hospital in 1958, at a time when over 200 people were dying of kidney failure each year in the north.
In the early years of kidney transplantation, she established a low-dose steroid regimen for patients which dramatically increased survival rates, and became known among physicians as the 'Belfast Recipe'.
Her work led her to become the first woman to be elected to the British Association of Urological Surgeons, and she was later appointed president of the Ulster Medical Society.
In 1985 she was awarded a CBE for services to medicine, while on the 50th anniversary of the NHS in 1988, she was named among 50 women who had contributed most to its success.
The renal unit at Belfast City Hospital is named in her honour.
Chair of the Ulster History Circle, Chris Spurr, said:
"Mollie McGeown gained the highest reputation for her contributions to the research and treatment of kidney disease in Northern Ireland. Her pioneering work on successful and lifesaving transplant programmes benefited countless numbers of patients and won her many accolades. The Ulster History Circle is delighted to commemorate this distinguished nephrologist with a blue plaque at her old school, and the Circle is particularly grateful to Armagh City, Banbridge and Craigavon Borough Council for their financial support, and to Lurgan College for their valued assistance."